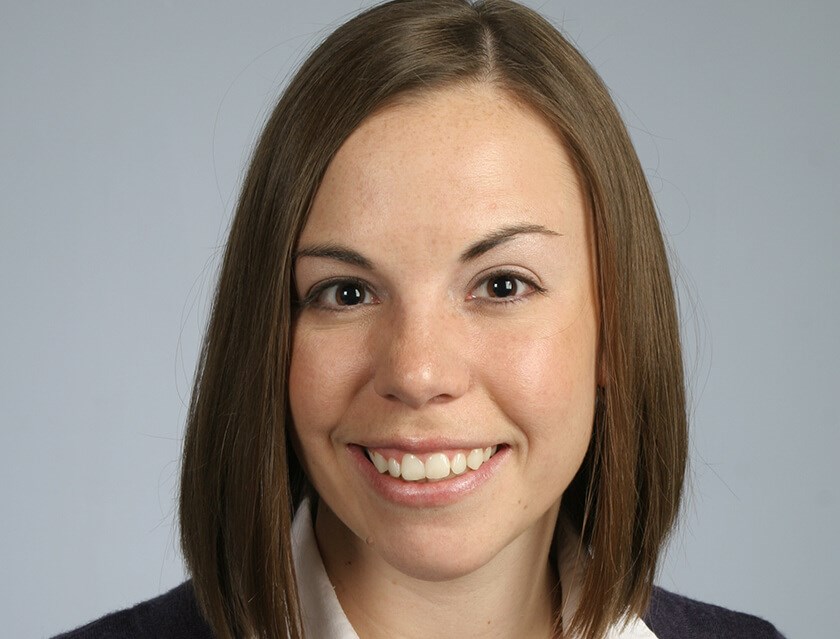 Dr. Jessica Heckman is a board-certified optometry specialist with a special interest in managing eye diseases and extensive experience providing full-scope patient care. At Chu Vision Institute, she works closely with cataract and refractive surgery patients to provide effective pre- and post-operative care. She also oversees Chu Vision Institute's in-house residency program through Pacific University College of Optometry, serving as an instructor for ophthalmic technician students and optometric externs. Dr. Heckman has assisted with more than 20 clinical research trials at Chu Vision Institute and has lectured both locally and across the country.
Dr. Heckman earned her Bachelor of Arts from Concordia College in Moorhead, MN before obtaining her doctorate of optometry (O.D.) and graduating with honors from the Pacific University College of Optometry. Afterward, she joined Chu Vision Institute in 2010. Dr. Heckman is proud to be able to use her talents and expertise to provide exceptional care for patients in her home state of Minnesota.
Reviews
"Great experience!  I've worn contacts since high school and I haven't been able to see the big E on the eye chart for years.  I'm a professional pilot, so I was nervous about having surgery in case anything went wrong.At my first visit I was told of all the worst case scenarios.  Even after that I still had enough confidence in Dr Chu after hearing so many good things about him.  The entire staff was very professional and friendly.  From the doctors and nurses to the very helpful financial coordinators I had a wonderful experience.I had the ASA surgery and after one month I see 20/20.  I still don't feel like it's real.  I don't have enough nice things to say about Dr Chu and his staff."
E.L.
Yelp
"I recently visited the Chu clinic as my eye sight seemed to be getting worse and after being seen at Vision Works and another place which I care to forget the name, I was so pleasantly surprised. From the first step in the door to all my tests, the Dr. visit and back out the door, I was treated like a person and not a number. Thank you for your care, diagnosis, and your pleasant atmosphere. I will be coming back as they referred me to retinol specialist. I can not thank you enough. Keep up the good work you all do from the receptionist, to the xray tech., to the Dr. You make it easy to come to the Dr."
T.H.
Yelp
"I went to Chu Vision to get LASIK done in May of 2014. I've never had any sort of real surgery (except when I got my appendix out) and so I wasn't sure what to expect. As you can imagine you need to be sure you go to a good place when you get eye surgery! I chose Dr. Chu due to his reputation as I received numerous recommendations. While I was nervous in the beginning, the Chu Vision staff put me at ease very quickly, and then when it came time to have the surgery everything went very smoothly. Dr. Chu walked me through the procedure, and that very evening I was able to see without my contact lenses. My recovery was quick and easy. I highly recommend Chu Vision and have told many of my personal friends about the experience. It is now 2015 and I have had no issues or problems, and am thrilled to be done with my glasses!"
R.A.
Google
"I am thrilled to say that after wearing glasses or contacts for 61 years, I am now able to see 20/20 without correction!!! Thanks to Dr. Chu at the Chu Vision Institute and all the wonderful nurses, optometrists, and staff for my successful cataract surgery with crystalens. I needed a little tweaking of laser in one eye, but it has turned out great. What a joy to be able to see when I'm swimming! I still reach for my glasses each morning, but what a good feeling when I remember I don't need them. I will always remember the wonderful way I have been treated by Dr. Chu and his staff. Lynn Havlicek"
D.H.
Google
"Dr. Chu removed cataracts from both of my eyes 2 years ago and that was an amazing experience. People said I would be surprised at how white things would get and boy was that true!! After the first surgery, I couldn't wait for the second one! When I went back for my 1 year checkup, they asked how my eyes were doing. I told them my vision was blurry after working on the computer all day. The nurse explained that the film that was around the lens sometimes gets wrinkled and the light would get distorted when it hit that. They suggested the YAG procedure that would break up that film to get rid of the blurry vision. I just had my second eye done today and I am SO amazed at how well I see now!! The procedure only took 2 minutes and I walked out with 20/20 vision!! No more glasses for me!! I would suggest this to anyone having any issues after cataract surgery!!"
J.S.
Google
Related Posts